"Agreement on Cooperation" with the City of Osaka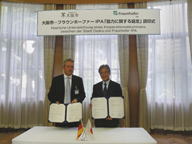 Stuttgart / Osaka, July 8th 2010
Prof. Dr. Alexander VERL, director of Fraunhofer Institute for Manufacturing Engineering and Automation IPA located in Stuttgart, Germany, and Mr. Kunio HIRAMATSU, mayor of the City of Osaka signed the "Agreement on Cooperation" on July 8th 2010 in the Mayor's Mansion in Osaka. Under this agreement Fraunhofer IPA and the city of Osaka will promote advanced research and the Kansai region as an excellent research region through information exchange, joint public relations activities, joint workshops and symposiums and joint research and development projects with Japanese research institutes, universities and companies especially in the region of Kansai.
Fraunhofer IPA is planning to install a point of contact in Osaka to promote the advanced research in the filed of Nanotechnology (Carbon Nanotube) and surface coating as well as carrying out consultant activities for REACH.