German School of Tokyo Yokohama becomes Roberta®-school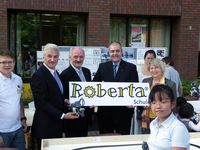 On October 16th the German School of Tokyo Yokohama (DSTY) became a officially certified Roberta®-school. Dr. Lorenz Granrath of Fraunhofer Representative Office Japan, together with German Ambassador Dr. Volker Stanzel and Minister of State Dr. Cornelia Pieper, formally handed over a sign to the headmaster of the school Dr. Michael Szewczyk.
Roberta®, developed by the Fraunhofer Institute for Intelligent Analysis and Information Systems IAIS, addresses the common lack of engineers by raising young girls' and boys' interest in the technical professions. With the use of standardized robotics kits, Roberta® allows a hands-on introduction to technology.
The German School of Tokyo Yokohama (DSTY) is the first school in Japan to become a Roberta®-school.
You can visit the official homepage for further information about Roberta®.
Photo) From left to right: Roberta®-teacher Mr. Knauf, Ambassador Dr. Stanzl, DSTY Headmaster Dr. Szewcyk, Fraunhofer RO Japan Dr. Granrath and Minister of State Dr. Pieper.