Mie-Prefecture and Fraunhofer-Gesellschaft collaboration
Mr. Ishigaki, Chief Director of Mie Industry and Enterprises Support Center (MIESC) and Dr. Lorenz Granrath, Fraunhofer Representative in Japan, signed a Memorandum of Understanding. Through that, Fraunhofer will participate in the newly established Advanced Materials Innovation Center (AMIC) in Yokkaichi and collaborate with other partners and local industry to create new materials and new applications.
The mutual collaboration ties were initiated and supported by Mitsui Global Strategic Studies Institute, which also signed the MoU as witness. Mr. Tomoaki Nishiyama, General Manager of SME Business Development Center, participated in the ceremony.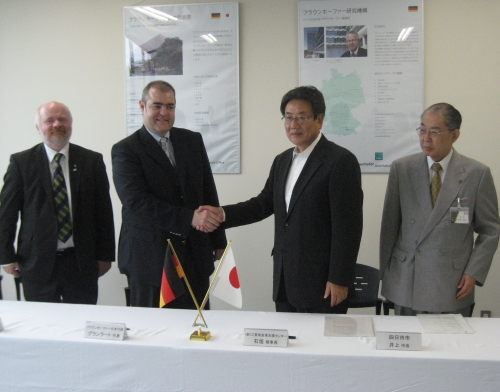 Nikkan Kogyo Shimbun (Daily Industrial Newspaper), Chunichi Newspaper and CTY (Yokkaichi Cable TV) followed the signing ceremony and published it on June 27th and June 21st, 2008. The signing ceremony follows the ribbon cutting of AMIC on March 8th, 2008 already with the participation of Fraunhofer through Ms. Marianne Hoffmann, Manager Asia in Fraunhofer headquarters. That day, Mr. Akihiko Noro, Governor of Mie-pref., Mr. Hideki Iwana, Chairman of Mie-pref., Mr. Tetsuo Inoue, Mayor of Yokkaichi city, Mr. Shutaro Sasaoka, Chairman of Yokkaichi city, Mr. Yuji Tokumasu, Deputy Director-General of Ministry of Economy, Trade and Industry made an opening address representing the organizer, and Kazuyuki Hirao, Professor of Kyoto University and Ms. Marianne Hoffmann, gave speeches.

The event was designed to give an overview about the center and present the facilities to all invited business partners.
The AMIC is a modern facility and provides laboratories and showrooms for industry and research institutes.